Before and After School Child Care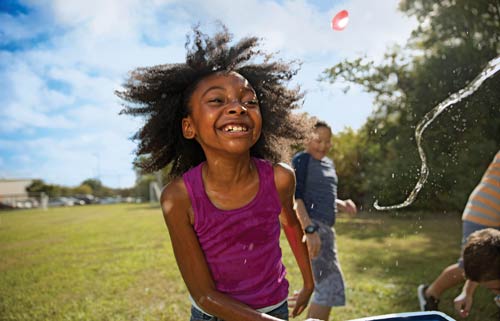 Before and After Care is for children ages 5 to 12 years. Our Before and After School programs are offered in partnership with area school districts and various other organizations, offering care after school in five locations along the MS Gulf Coast. Children participate in a balanced program of open play and structured activities while being supervised by well-trained and caring staff.
Children get involved in a variety of learning centers in addition to program components such as, recreation, health enhancement, arts and humanities programs, nutritional snacks, service learning, character development and homework assistance. These programs ensure that children are given a unique mix of activities that focus on developmental assets, which are the building blocks that teach children how to make positive and intelligent decisions throughout life.  Click on the links below for more information and weekly pricing.  Counselor/Camper ratio:  1:20
For more information and to register, click here.
Summer Camps
Our camp locations offer full time day camps during summer break from school. All summer camps follow a 6:00am to 6:00pm schedule. Locations include East Hancock YMCA at East Hancock Elementary in Kiln; Vancleave YMCA at Vancleave UMC; and Taconi YMCA in Ocean Springs on Magnolia Ave.
Summer Camp Flyers
Preschool
The Blossman YMCA Preschool Child Care Center is dedicated to providing a safe, healthy and positive learning environment for children ages one to five years old. Our goal is to promote social, emotional, cognitive and physical growth of young children through developmentally appropriate activities and experiences while considering individual needs, temperament and learning styles.
Our Center is licensed by the State of MS Dept. of Health and is headed by a staff that is CDA (Child Development Associate) accredited. CDA is the only major national effort to improve childcare by evaluating and recognizing the skills of individuals providing care. Every candidate for the CDA credential is observed working with young children and must demonstrate the ability to work with families to develop children's physical and intellectual capabilities in a safe and healthy learning environment.
The Mississippi YMCA Preschool continually strives to maintain a high quality environment. Since its opening in 2000, our Center has participated in the MSU Early Childhood Institute's Partners for Quality Child Care Program, consistently scoring high in the Infant/Toddler Environment Rating Scale (ITERS) and Early Childhood Environment Rating Scale (ECERS). These scales rate child care programs on a variety of criteria including personal routines, activities, interaction, program structure, space and furnishings, and staff. The center also participates in The MS Child Care Quality Step System, a voluntary rating system for licensed early childhood facilities in MS which focuses on five areas: administrative policy, professional development, learning environments, parent involvement, and evaluation.
Our program features:
Age appropriate activities
Nutritionally balanced meals
Field trips to local points of interest
Creative projects
Story time, poetry, videos and books
Learning new songs and music appreciation
Seasonal celebrations and activities
YMCA Swimming Lessons at a discounted rate
Weekly summer recreational swimming.
Family activities.
End of the year graduation.
Click here for more information on The Creative Curriculum.
Current Prices:
Registration fee is $75 for members and non-members.
Pre-School Program Full Time: Ages: 1-5 years
$115 Member Weekly Rate;  $130 Non-member Weekly Rate
For availability questions, contact the preschool @ 228-875-0152.
Childwatch
Q: Do you need childcare to enjoy our programs?
A: CHILD WATCH
One of the many benefits of membership through the Mississippi Gulf Coast YMCA is quality childcare on premises. Our staff provides qualified supervision and entertainment in a safe and secure environment while you workout. Children enjoy story time, arts and crafts and play giving you a chance to use the facility with peace of mind.
There is a two-hour per child, per day limit. Parents must remain on the YMCA premises. Child Watch is included with family memberships only.
Blossman Family YMCA Childwatch
Childwatch Hours:
Monday: 7:45am-12:00pm; 3:00pm-8:00pm
Tuesday: 8:00am-12:00pm; 3:00pm-8:00pm
Wednesday: 7:45am-12:00pm; 3:00pm-8:00pm
Thursday: 8:00am-12:00pm; 3:00pm-8:00pm
Friday: 7:45am-12:00pm; Closed Evening
Saturday: 8:00am-12:00pm; Closed Evening
Sunday: Closed
Tradition Family YMCA Childwatch
Childwatch Hours:
Monday — Friday: 8:00am-12:00pm
Monday — Thursday: 4:30pm-7:30pm
(No childwatch Friday night)
Saturday: 8:00am-12:00pm