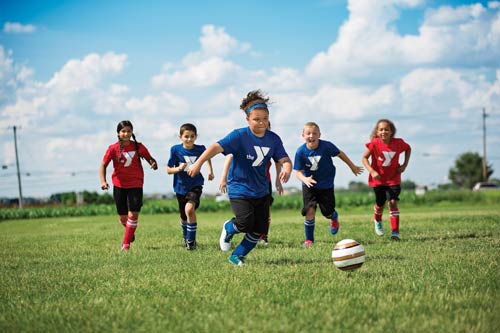 Youth Sports
We are focused on nurturing the potential of every child. Through the Y's youth sports programs, we want to help children improve their skills, make new friends, be active with other kids while learning sportsmanship.   Activity helps the body grow; thinking advances the mind; and belief makes our spirit grow.
Our sports programs provide children with opportunities to learn specific sports skills in a supportive atmosphere. Our sports programs are conducted with emphasis on the positive personal growth of the child. We balance the development of physical skills with other important aspects of sports, such as leadership, teamwork and cooperation. Above all, kids who participate in Y youth sports have a lot of fun. And our philosophy is "everybody plays, everybody wins."
Each sport is a six-week season with one practice held during the week and games played on Saturday mornings.  All practices and games are held at Freedom Field in Ocean Springs.  All teams are Co-ed.  Your fee includes a jersey and medal.
FEES
Member: $60.00
Community: $80.00 
Volunteer
We're seeking volunteers interested in encouraging, guiding and training young athletes at the Y.  Our volunteer coaches make YMCA youth sports possible, and create a lifelong impact on children by encouraging participation and emphasizing sportsmanship and strong character. We rely on volunteers to coach sports leagues throughout the year. Contact your Y for details on how you can get involved.
Sponsorship
Contact the YMCA for more information on Youth Sports Sponsorship.
T-Ball
YMCA T-ball is designed to teach young baseball players the fundamentals of the game. Participants will learn how to catch, throw, and bat in a fun team atmosphere.  The focus of the league is to have fun, meet new friends and play in a non-competitive environment.  Season is during the months of March- April with ages 3-7.
NFL FLAG Football
NFL FLAG Football is a recreational program designed for youngsters new to the sport of football as well as those not quite ready for tackle football. The NFL FLAG Football program is geared toward those youth who want to learn how to play the sport, brush up on the rules, tactics, and skills, improve their game and most importantly – HAVE FUN!  Season is during the months of January- February with ages 3-14.
Youth Soccer
Youth Soccer is the perfect sport to get your child involved no matter the age! With an emphasize on fair play and safety first, the YMCA soccer program is progressive with age appropriate rules to help teach the game and keep it fun at every level.  Spring season is during the months of May- June and Fall season is during the months of September- October with ages 3-12.