Group Exercise
Group exercise classes can add fun and variety to an otherwise boring exercise routine! Take an opportunity to meet new people, challenge yourself and elevate your goals by trying any of the many classes we offer, including Les Mills classes – FREE WITH MEMBERSHIP! Our talented instructors are certified trainers and can help you every step of the way.
Fitness Schedules can be found here!
Wellness Center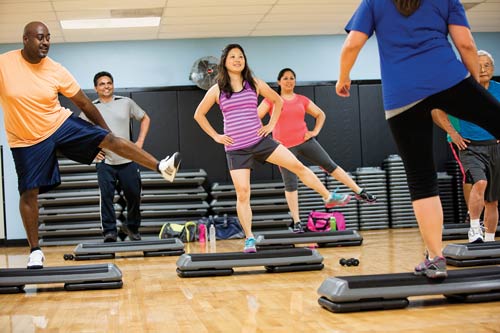 Our brand new equipment in our Wellness Center includes:
Life Fitness weight equipment
Hammer Strength free weights
Stationary cycles
Treadmills – Techno Gym Internet Accessible
Elliptical trainers/steppers
Nautilus Strength Equipment
Personal LCD Screens on most cardio equipment
Private, spacious fitness classrooms
Qualified staff members on-site
Personal Trainers available by appointment
New Member Orientation free with your membership
Towel Service
Rules:
Dress Code: Members and guests are expected to wear proper workout attire in the wellness center, which includes shirts, shorts and proper footwear (no swimsuits, sandals or open-toed shoes allowed.)
Must be 11 years old or older and have a fitness orientation to use the Wellness Center.
Personal Training at the YMCA
Personal trainers are available by appointment. Please call us for more information at (228) 875-5050.
Winter Classic Run/Walk
Partnered with the Gulf Coast Running Club, come out and join the fun! Started in 1988, the Winter Classic 10K and 1Mile Fun Run is in January each year.
Wesson Memorial Run
2 Mile and 1/4Mile Fun Run in July. (1st race started in 1980) is accurately marked, beautiful with a scenic course. The run begins and ends at the Blossman Family YMCA, with the highlight being a beautiful running route that flanks the Gulf Coast.
Osprey
The only open water swim race in the tri-state area, the OSPREY features a 2 mile swim race, an Aquathlon (1 mile swim and 10k run) and a 10k run. Held in the beautiful downtown Ocean Springs at Fort Maurepas Park. Visit www.ososprey.com for more information.
Diabetes Prevention Program (DPP)
CHANGE IS TOUGH—WE CAN HELP
Let's face it, if change were easy, we'd all do it. You've spent years developing habits that you can't expect to change overnight. It's tough. We can help. The YMCA's Diabetes Prevention Program gives you the skills you need and the support you deserve to make lasting healthy lifestyle change. If you're at risk for type 2 diabetes, you can make small, measurable, changes that can reduce your risk and help you live a happier, healthier life.
Click here for more information on our Diabetes Prevention Program.
Y Fit Challenge
This challenge includes weekly weigh ins, accountability coaches, group fitness classes, weekly educational speakers, lunch and learns, pop up challenges, and so much more! Participants will be educated on health, wellness, and nutrition to aid in long term SUCCESS! Prizes for overall male and female winners. Participants will receive a Y Fit T-shirt at the end of the 8 weeks. Must be 18+ to register.